Recorder for iPhone
Record Anything, Anywhere
Record memos, discussions, interviews, and ideas on your iPhone. Use it as a voice recorder or a sound recorder. Record for seconds or hours. Extremely simple one button interface.


New in version 11: Call recording accounts and call retrieval, iTunes file sharing, and background audio recording!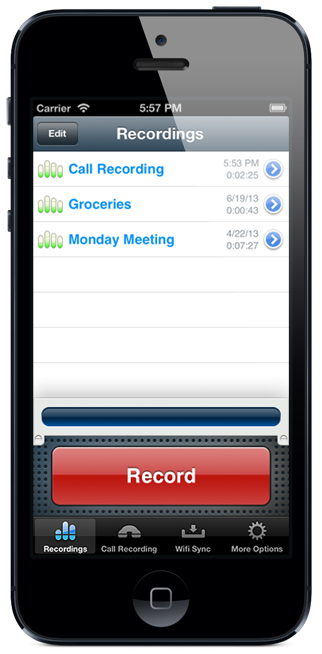 "single-button simplicity"
— Rik Fairlie, New York Times: Trick out your iPhone
"Good before... great now!"
★ ★ ★ ★ ★
This is, by far, the BEST dollar I have ever spent! I am in radio and now will be able to record short actualities or feature snippets, the e-mail them for editing and broadcast. They have managed to get surprisingly good quality from a little phone mic. It's easy to record, preview, rename, and E-MAIL the .aiff file. This is the kind of apps I imagined getting from the App Store. Professionally made and reasonably priced!
— App Store Reviewer donmcdonald

"Recorder is a bargain"
— Franklin N. Tessler: Review: Recorder for iPhone